HOLLAND'S ORIGINAL MOUNTAIN CURS
WELCOME TO MY WEBSITE FEEL FREE TO CONTACT ME ANYTIME I LOVE TO TALK DOGS 479-885-3071 OR E-MAIL ME hollandsmtcurs@hotmail.com
Hello Folks,
I would like to tell you a little about me and my dogs. My name is Dewayne Holland, I live in a little town in Arkansas called Lamar, where I pastor at Lee's Chapel Assembly of God. I have been hunting Original Mountain Curs since the early 80's and have found them to suit me in every way. I hunt my dogs on squirrels and coons. I competition hunt as well as pleasure hunt. I enjoy meeting a lot of new folks through these dogs. I enjoy training young dogs and also hunt dogs for the public during our season here in Arkansas that runs from September until the end of February. I have pups and started dogs for sale from time to time, if you are interested give me a call or shoot me and e-mail. If you would like to come and hunt with me give me a shout I would love to see a good dog in the woods and if you don't have a dog come on and help me kill some squirrels. Look around on my website and if I can help you in anyway give me a shout. Come back anytime. God bless and have a good day Dewayne...
Site updates
Check out our newest photos!!!!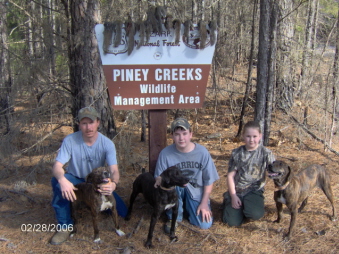 This is my friend Dee Patton with Rudi(Tyges Hardwood Rattler x Hollands Lucky) my son Daniel with Hollands Jammer(Tyges Hardwood Rattler x Hollands Lucky) and my daughter Ashley with Hollands Lucky and 12 squirrels we killed in about 2hrs the last day of season 2006.
This was a hunt middle of February 2014 with my dad, Daniel, Pokey and his son, and Brandon Harris. The dogs are from left to right Luke, Rain, and Shine.